Lawyer Profiles
Kimberly D.A.Soul
Areas of Practice: FAMILY, Collaborative Family, Adoption, Guardianship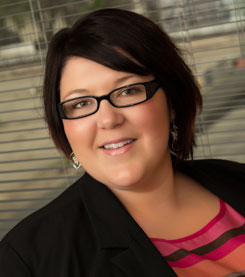 Kim Soul is an associate at Bennet Waugh Corne and practices exclusively in the area of family law. Kim graduated from the University of Manitoba with her Bachelor of Arts in 2003 and from the University of Manitoba, Faculty of Law in 2008. She was called to the Manitoba Bar in 2009. Since that time she has been attracted to family law due to her desire to assist families through the emotionally and intellectually challenging issues they face when there is a breakdown of the family unit.
Kim guides her client's through the difficult issues they may be facing during a breakdown of a relationship while being considerate to the emotional and psychological issues surrounding the breakdown.
Kim is a member of Collaborative Practice Manitoba and believes that the collaborative and negotiation processes to dispute resolution provides parties with a resolution to their matter in a manner that best suits their and their family's current and future needs. She offers services in various areas of the family law including, separation and divorce, custody, breakdown of common law unions, support issues, variations, Cohabitation Agreements, Pre-Nuptial Agreements, property divisions, adoptions and guardianships.
For more information about Collaborative Law and other legal services offered by Kimberly, please view www.soulfamilylaw.ca.
Kim is a member of the Canadian Bar Association and the Manitoba Bar Association. She was the Manitoba Law Society Student Bencher for the year 2008 - 2009 and is currently a member of the Law Society Equity Committee.
Kim is active in her community volunteering for various organizations. She is a Board Member (Vice Chairperson) for the Manitoba Community Services Council Inc. Kim was also an Advisor to the Active Chapter of Alpha Delta Pi Sorority.
As she has a keen interest in learning and professional development; Kim is a regular participant in seminars offered through the Law Society of Manitoba, the Manitoba Bar Association and the Canadian Bar Association. She has received training in negotiation practices and collaborative law and is regularly involved in workshops and seminars which enhance these methods of dispute resolution. Kim enjoys learning about new ways to solve family law issues while ensuring that the clients are active in the outcome and informed about their choices.
In her spare time, Kim enjoys reading anything that challenges her views and thoughts, planning and organizing events, being outside on hot summer days and most importantly, spending time with her family both in Winnipeg and British Columbia.
In This Section
Contact Us
If you need help navigating a legal issue, contact our general number to be put in touch with one of our lawyers. If you decide to meet with one of our lawyers, we offer flat-rate initial consultations. This consultation gives you the chance to meet personally with one of our lawyers and discuss your problems and concerns, without any obligation to continue unless you choose.