Business Law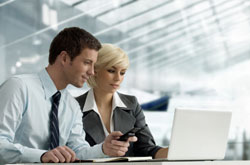 Our corporate/commercial lawyers assist small and medium sized business owners with all areas of business law. Whether it is starting a new business or purchasing an existing one, reorganizing the structure of your growing business, or selling a business you've worked hard to establish, we can help.
Buying or selling a business? We can assist with negotiating and drafting of the buy-sell agreement and any leases. We also conduct the due diligence necessary to ensure you get what you are paying for, draft and register any real estate documents, and assist with all financial aspects of the transaction.
Thinking of incorporating a business? We can help you determine whether incorporating is right for you. If incorporation is the right business strategy, we can incorporate share and non-share corporations, and complete all additional registrations for Professional Corporations and Farm Corporations. From organizing resolutions, and maintaining a minute book to tracking changes and filing annual reports, we can help with our streamlined solutions.
Is your business family run? We understand that family run businesses have their own unique considerations. Our lawyers will help you consider how to organize responsibilities and obligations to minimize stress on the family during the operation of the business and when it is time to wind-down. We can also draw on the knowledge of our family and civil litigation lawyers to avoid and/or minimize any potential problems.
Need a contract drafted? At Bennet Waugh Corne we negotiate and draft all types of contracts, including Leases (Residential, Commercial and Agricultural), Sale-Purchase Agreements (Share and Asset), Partnership and Shareholder Agreements, Security Agreements, Trust and Agency Agreements, and Employment Contracts.
Collections - one of the most difficult aspects of running a business is collecting money owed to you. We help our clients understand and employ their legal options for collecting monies owed to them.
We can help you keep your business running smoothly, at every stage of your business development cycle.
R. Grenville Waugh is our most experienced lawyer in this area of practice.
In This Section
Contact Us
If you need help navigating a legal issue, contact our general number to be put in touch with one of our lawyers. If you decide to meet with one of our lawyers, we offer flat -rate initial consultations. This consultation gives you the chance to meet personally with one of our lawyers and discuss your problems and concerns, without any obligation to continue unless you choose.